Review of March's Events
The Life Member Affinity Group (LMAG): At the initial organizing meeting, Charles Kime was elected as Chair and Charles Cowie was elected as Vice Chair. Potential projects for the group were Madison Science Museum (see here), tutoring especially in Math for Middle School aged children, and mentoring informally or through the official IEEE Mentoring program. Also, the undergraduate IEEE-UW Student Branch could use help mentoring students on projects. Faculty do not have the time to engage students on a one-on-one basis. Another possible project is for the LMAG to schedule Membership Grade Promotion sessions for the IEEE-Madison Section for promotion to Senior Member, in particular for members of Industry. Programs: it was thought that the LMAG could sponsor programs that were of interest to the membership, but out of the normal technical interest of the Section. Two possible programs discussed were History of Science presentations and Educational Outreach opportunities such as the UW-Madison "Senior Guest Auditor" program to attend lectures of interest. Interested in participating in the LMAG group? Please contact Tom Kaminski (tjkaminski-at-ieee.org).

Engineers in Medicine and Biology Talk: Dr. Dennis Bahr, a Madison section member who has successfully started a number of biotech companies, talked to a joint meeting of the IEEE-Madison Engineers in Medicine and Biology Chapter and the UW-Madison Biomedical Engineering Department Seminar about his latest biotech venture involving a technology to diagnose hemorrhage leading to hemorrhagic shock. Shock is a life threatening condition that is difficult to diagnose using traditional vital signs information available to first responders, such as blood pressure, heart rate, respiration, and Sp02.This is especially true in young and healthy patients, whose vital signs don't change much until they have lost 20% or more of their circulatory system blood volume. At that point it may be too late to save them.
Dennis's research suggests it may be possible to diagnose shock by measuring the time delay between the heart's electrical signals and the mechanical arrival of the pulse in the arteries of the arms. He is developing a device to measure the variations in this delay, giving first responders the ability to monitor and measure internal or external hemorrhage. He found empirically that when the blood pressure pulses pass under a blood pressure cuff the arteries in the arm snap open and can be heard as sound with a spectral peak at approximately 17Hz. When two microphones are used under the same cuff, motion artifact and noise can be removed from the blood pressure signal by looking at the phase relationships. In phase signals are noise and motion while out of phase signals are the blood pressure pulse.This device will become part of the hemorrhage monitoring system.

Dr. Bahr, his partner John Peterman, a small team of physicians, PhDs & technicians, and four students from the UW Department of Biomedical Engineering have built a Lower Body Negative Pressure (LBNP) chamber to simulate hemorrhage in healthy volunteers. If the results prove positive they will design and build a blood pressure cuff system that wraps around the arm and will contain a pump, battery, and visual display. It will measure blood pressure, heart rate, ECG, SpO2, and any blood loss or hemorrhage.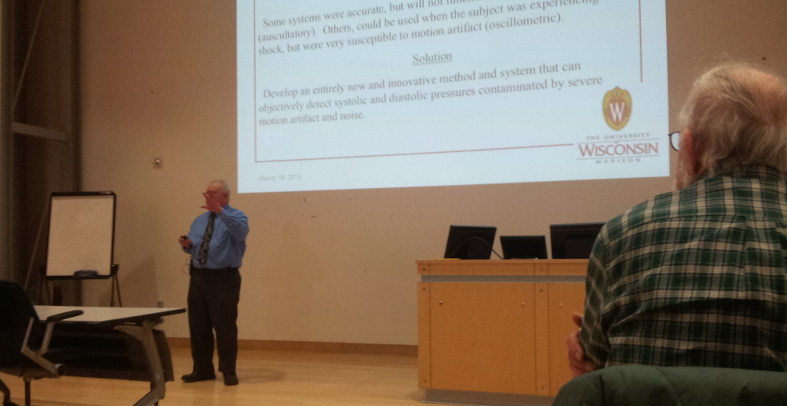 The March Section Meeting:(Review by CJ Gervasi) Ron Pulvermacher, founder and president of Matrix Product Development in Sun Prairie, spoke to our Section about the DASH-7 wireless standard. DASH-7 is a wireless protocol structured as a "file" sharing system. "Files" in this case are commands or data about devices. DASH-7 can perform functions similar to Bluetooth Low Energy (BLE), but with DASH-7, both sides of the link are designed for low power. In BLE, only the slave side is designed to be low power. A DASH-7 master can ask all nodes that are observing a particular condition to respond, allowing all other units to save power by staying silent. Dash-7 operates in the sub 1 GHz band. The 433MHz frequency is popular in Europe where the power limits on that band are higher. Using the 433 MHz band also buys users 15 dB less path cost compared to the 2.4GHz band used for BLE, Zigbee and 802.11(g) Wi-Fi. DASH-7 modulation is 55kbps GFSK, much slower than BLE's 1 Mbps GFSK, which provides DASH-7 more link budget but does not affect power budget. Matrix is implementing a DASH-7 network on the CC430, a low-cost TI MCU with a built in radio. In Summary, Dash-7 is a sub-gigahertz Bursty, Lightweight, Asynchronous, Stealth, Transitional (BLAST) wireless protocol.

UW-Madison IEEE Drone Project: The UW-Madison Student Branch has formally started the project to equip drones with RDF antennas and equipment for tracking both wildlife, and people who wander, such as people with Autism or Alzheimer's. Ten students have signed up for the project and meet on a regular basis. They have formed a Google Group and have set up a git site for logging software. Students used prototype antennas to track coyotes in the Picnic Point area.